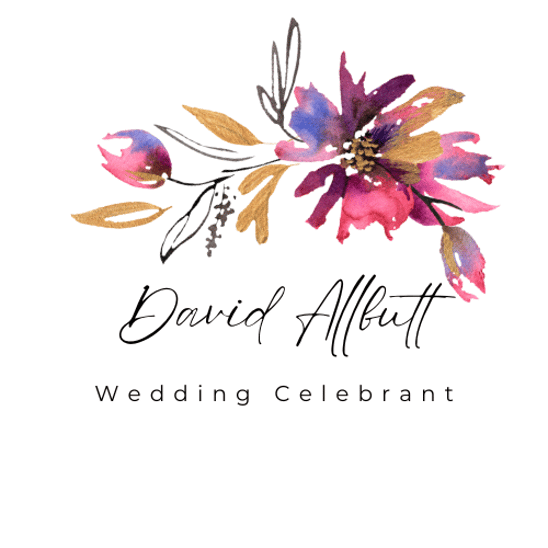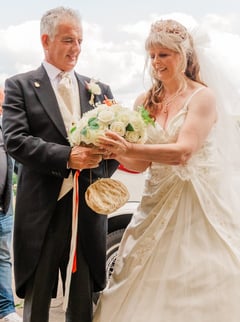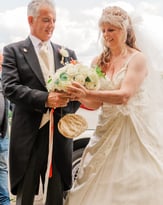 "Superb Celebrant"
"What a super Celebrant Dave is, he did our handfasting ceremony and it was brilliant. He is the most friendliest man I have ever met. David made us feel very comfortable and at ease all the time. We had lots of fun and laughter with him.
David also did all our photos too. He is very professional.
I highly recommend him."
- Sue & Dave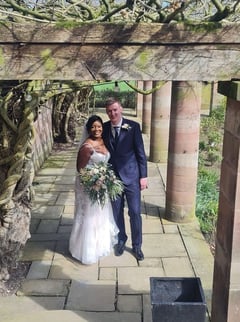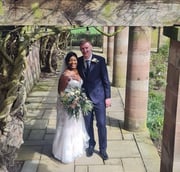 "A Day to Remember, Many Thanks to David"
"We just want to say THANK YOU! Tuesday was an amazing day, and the ceremony was beautiful. We loved how you conducted our entire experience with you, start to end you are super professional and brought our story to life. Our guests also expressed you did a great job!
Your next couples should be delighted to have you."
- Phoebe & Michael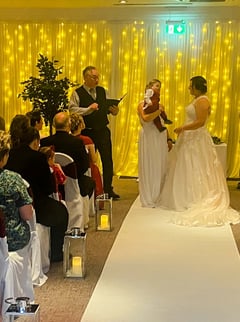 "Great Ceremony"
"Jane and Rachael's special day finally happened on NYE after Covid drama. David provided the perfect service for them, couldn't have gone any better. Communication from start to finish was spot on with them being able to adapt their vows and have the ceremony exactly how they wanted it, David was very flexible. Would highly recommend."
- Jill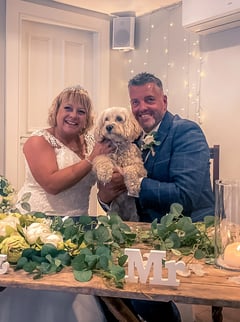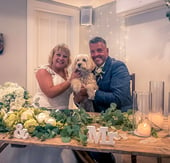 "Amazing...Best decision of our big day!"
"Well what can I say, David was great, efficient, easy going, competent, funny, and great value but most of all he made our day perfect and tailored to our needs.
I highly recommend David for you wedding, he makes everything so much more personal and it was definitely the highlight of our day!"
- Julia & Ged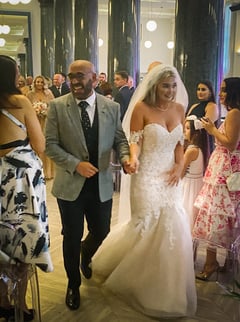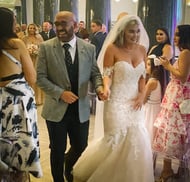 "Excellent from start to finish"
"David was so responsive and helpful throughout. He did a great job as our celebrant creating a ceremony bespoke to us."
-Sarah & Dan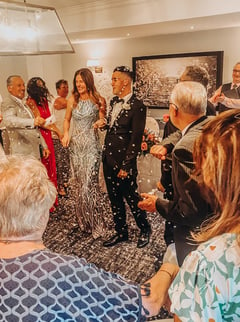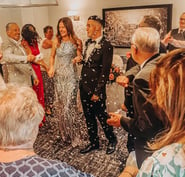 "We already miss our Zoom calls with David"
"When my partner and I started the process of looking for a celebrant, there was something about David that made me feel immediately at ease - perhaps it was how down-to-earth he came across. As David himself can attest to by having done our ceremony, and getting to know my now husband and me better, that gut feeling about someone's character isn't something I ignore.

During the process of planning our ceremony, David was extremely enthusiastic and encouraging, as well as flexible, and he really helped us to find our way when we were unsure about something. The experience was deeply meaningful as well as fun.
As far as the actual day, our guests loved hearing about how we met through our own words, as well as the course our relationship had taken up to that very day of the wedding - It gave them that extra insight into our journey as a couple and made the ceremony that much more interesting for them.

David made the day inclusive for everyone and we are so happy we decided to work with him. His professionalism, drive, and attention to detail are great and we are 100% satisfied with our experience. We are appreciative of the hard work that he put into making our day so special, and for the lovely keepsake script that he gave us afterward. We wholeheartedly recommend him to other couples."
-Casey & Michael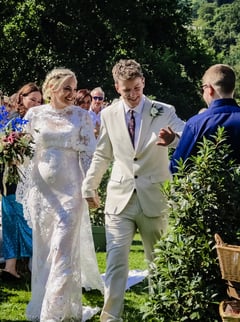 "Did a fantastic ceremony"
"Lovely man who made our ceremony feel special and personal. He helped us script and choreograph the whole thing and was very organised and thoughtful about the whole process. All our guests said what a nice man he was and how personal he helped to make it feel. Would highly recommend David!"
Danny & Mik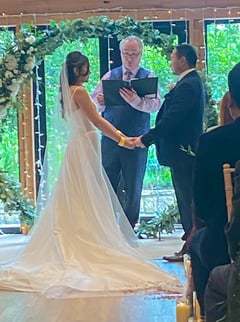 "He helped us create a beautiful ceremony that we will always remember"
"Our wedding day was one of the best days either of us has ever experienced, which is largely due to David. We cannot express the happiness he has brought us.
David was fantastic from start to finish in helping us create the perfect wedding script. He was very thorough during our meetings and documented our love journey which was shared with all our guests on the day. Our family and friends all complimented David on the splendid job he did with the storytelling and content.
David was an absolute pleasure to work with, he was friendly, warming, and patient, he genuinely cares for the couples he works with and tailors all his scripts so they are unique to each couple.
We wish we could relive our wedding day all over again for so many reasons, and one of them is to get to work with him again."
Kevin & Lissy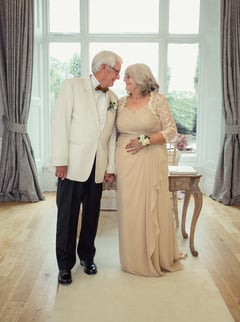 "Thank you David for helping us put together a beautiful Ceremony for our Wedding Vows Renewal on 15th October. Truly a day to remember.
And for the amazing photographs you took of our celebration. An excellent service which we highly recommend."
Annette & Mike